Monument Patterns
October 5 - November 4, 2015
The show combines recent work completed and exhibited while in residence at the 2015 SOMA summer program in Mexico City, alongside other works made within the past year.
Wolovick layers elements of photography, abstract painting and geometric structure to create a complex, brightly colored visual language. Whether it be synthesizing aspects of Puerto Rico or New Zealand, the tactile imagery and surprising arrangements embodies turbulence in the landscape alongside a sense of beauty found, and disrupted.
The largest installation in the exhibition is a grouping of over 40 collaged works on paper and board produced in Mexico City. Found patterns from lacework to party decorations to architectural motifs and ancient symbology, are combined with photographs taken on-site, documenting the city's many triumphalist public monuments. Because of the history of this iconography and the instinctual and touristic way it was gathered, the work is in dialogue with notions of how power weaves through culture in both large and small ways. Visually the works reflect the city's character as revealed through its complex strata.
Also on view are a smaller series of collages and a series of small paintings on panel that pull from the artist's previous studies of Puerto Rico, New Zealand and Germany, over the past several years. The entirety of these works, while reflecting a site-specificity to given places, continue Wolovick's research into the global visual ubiquity of the monument, where its field of power intersects with the personal and poetic.
Orange Tlaloc with Eyes, 11" x 14.75", Digital prints with acrylic and spray paint on paper, 2015
Orange Laurels Squares and Mexican Insignia, 22" x 30", Acetate, adhesive vinyl, marker and spray paint on paper, 2015
Lower Independencia Shifted, 20" x 30", Adhesive vinyl and spray paint on board, 2015
Yellow Tlaloc, 20"x 30", Acetate, vinyl and spray paint on paper, 2015
Double Yellow Tlaloc, 20" x 30", Adhesive vinyl, and spray paint on paper, 2015
Yellow Nike Angles, 30" x 20", Adhesive vinyl and spray paint on board, 2015
Yellow Nike Angel with Archeo Window Pattern, 30" x 20", Adhesive vinyl and spray paint on board, 2015
Two Black Nike Angels with Floro Spray, 15" x 10", Adhesive vinyl and spray paint on board, 2015
Peace with la Biblioteca, 20" x 26", Adhesive vinyl and spray paint on paper, 2015
General Jose San Martin with Yellow and Pattern, 26" x 20", Adhesive vinyl and spray paint on paper, 2015
Lower Independencia with Horses and a Kiss, 20" x 26", Adhesive vinyl and spray paint on paper, 2015
Pipes Laurels and Tlaloc, 18.75" x 24.25", Acetate, adhesive vinyl, markers and spray paint on paper. 2015
Large Tlaloc with Eyes, 23.5" x 17", Adhesive vinyl, acrylic and spray paint on paper, 2015
Nike Angel Boobs with Pattern and Drip, 20" x 15", Adhesive vinyl and spray paint on board, 2015
Lower Independencia with Squares, 22" x 30", Adhesive vinyl, markers and spray paint on paper, 2015
Peace at Independencia, 30"x 20", Adhesive vinyl and spray paint on board, 2015
Golden Nike Angels, 15" x 20", Adhesive vinyl and spray paint on board, 2015
Peace with Tlaloc, 20" x 30", Adhesive vinyl and spray paint on board, 2015
Ángel Ángel de la Independencia de la Independencia, 20" x 15", Adhesive vinyl on board, 2015
Angles at the Lower Independencia, 15" x 20", Adhesive vinyl and spray paint on board, 2015
A Floral Kiss, 24.5"x 36.5", Adhesive vinyl on paper, 2015
Purple Cuitlahuac, 30"x 20", Adhesive vinyl, graphite, markers and spray paint on board, 2015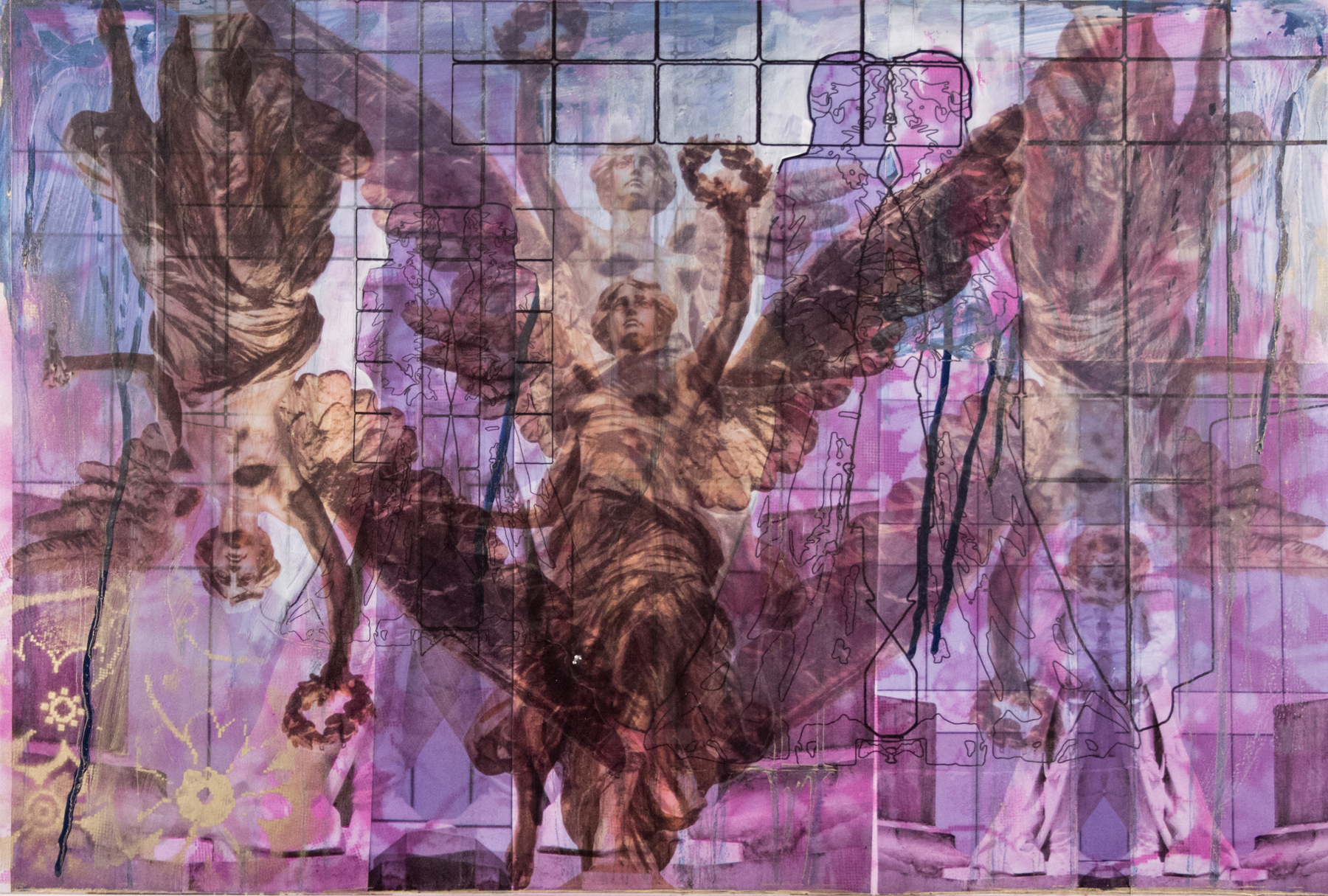 Purple-Blue Independencia with Love, 20" x 30", Adhesive vinyl, acrylic and spray paint on board, 2015
San Martin Horses with Archeo Window Pattern, 15" x 20", Acetate, adhesive vinyl, marker and spray paint on board, 2015
Pink and Blue Double Angel, 20" x 26", Adhesive vinyl and spray paint on paper, 2015
Pink Dueling San Martins, 22" x 30", Acetate, adhesive vinyl, acrylic and spray paint on paper, 2015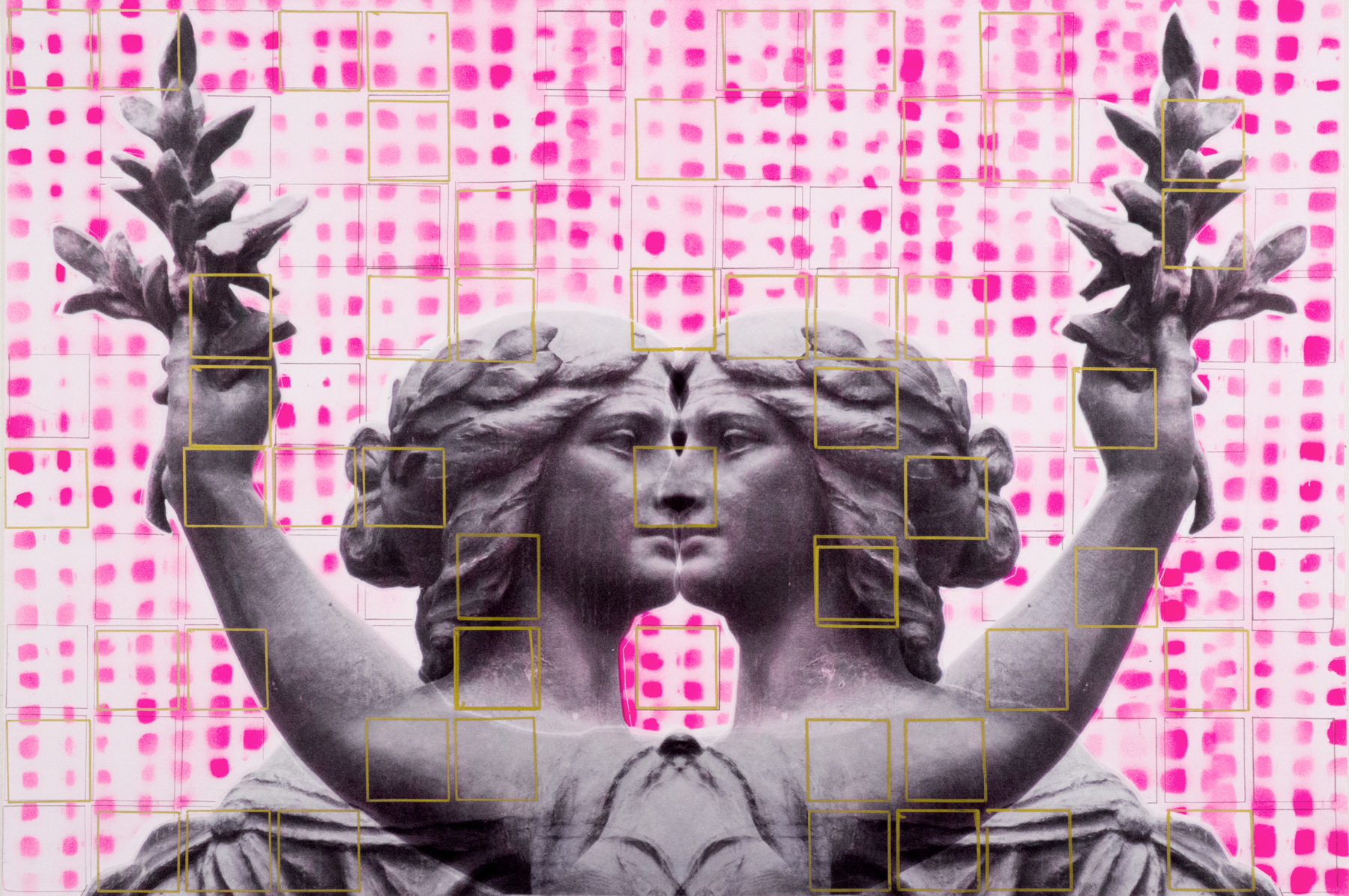 Pink Squares with Kissing Peace, 20" x 30", Adhesive vinyl, graphite, markers and spray paint on board, 2015
Lower Independencia with Graffiti, 20" x 15", Adhesive vinyl and spray paint on board, 2015
Aztec Stone with Angel and Mexican Insignia, 24" x 19.5", Adhesive vinyl, graphite, markers, acrylic and spray paint on paper, 2015
Lower Independencia with Laurels, 15"x 20", Adhesive vinyl and spray paint on board, 2015
Angels Vertical HSBC, 23.5" x 17.25", Adhesive vinyl and spray paint on paper, 2015
Blue Triangles with San Martin, 20" x 15", Adhesive vinyl, graphite and spray paint on board, 2015
Blue Squares with San Martin Horses, 20" x 15", Adhesive vinyl, graphite, marker and spray paint on board, 2015
Blue Tlaloc, 22" x 30", Adhesive vinyl, and spray paint on paper, 2015
Columbi with Triangle Graffiti, 14" x 13", Acetate and digital print on canvas, 2014
Feldherrnhalle Somohano, 19″ x 16″, Digital prints on acetate and paper, 2015
Columbus Arms Hands Reverberation, 19″ x 17″, Digital Prints, acetate and sharpie on paper, 2015
Feldherrnhalle Kupe, 19″ x 16″, Digital prints on acetate and paper, 2015
Triangles with Arturo Somohano, 10" x 10", Digital Print, 2015
Somohano and Columbus, 19″ x 13″, Acetate and prints collage with spray-paint on paper, 2015
Queen Victoria Squares and Arm, 19″ x 13″, Digital Print, Acetate, sharpie and spray paint on paper, 2015
Dual Columbi and Ataturk, 19″ x 13″, Digital prints, acetate and spray paint on paper, 2015
Louis Munoz Marin Collage, 19″ x 17″, Digital prints on paper and acetate, 2015
Study for Green Triangles Kupe Arrives, Wellington NZ , 12" x 12", Acrylic, spray paint, china marker, graphite, ink and digital prints on panel, 2014
Purple Squares with Queen Victoria, Wellington NZ, 12" x 12", Acrylic, spray paint, china marker, graphite and digital prints on panel, 2014
Study for Blue Triangles with Arturo Somohano, San Juan PR, 12" x 12", Acrylic, spray paint, china marker, graphite, ink and digital prints on panel, 2014
Study for Red Circles with Queen Victoria, Wellington NZ , 12" x 12", Acrylic, spray paint, china marker, graphite, ink and digital prints on panel, 2014
Study for Yellow Squares with Rugby Wellington NZ, 12" x 12", Acrylic, spray paint, ink and digital prints on panel , 2014